The Capital Region's Most Trusted Source!
Lots of EXCITING NEWS happening around here...
THANK YOU to all those who visited our GRAND OPENING of our New Location in Delmar, NY
Here are a few images of the event (courtesy of Patrick Renzi Photography)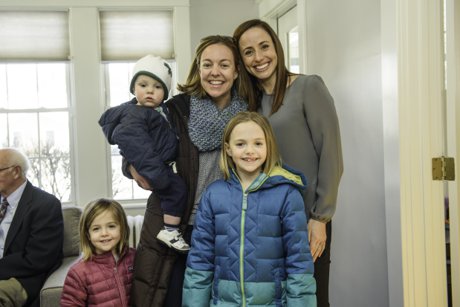 It's official!!!!
We are so pleased to announce that Don Moore has joined our team!
A former advertising agency executive, writer and award winning television commercial producer – working full time in real estate since 2003, Don has extensive knowledge of the Albany County, Columbia County and Rensselaer County real estate markets. Specializing in historic homes and area tours to familiarize buyers from outside the Capital Region his real estate career has focused on listings and sales in Delmar, Slingerlands and Guilderland. He has sold 18 homes in the Colonial Acres neighborhood.
Don is a longtime resident of Albany & the Town of Bethlehem, (Colonial Acres) since 1992. An Artist/ and wood carver specializing in realistic fish carvings. Accomplished fly fisherman and master fly tier; landscape and perennial garden designer; collector and propagator of dwarf conifers. 
You can contact Don @ 518-421-3409 or don@djmoore.com


Albany Realty Group is a local, independent firm dealing in Residential and Commercial real estate within New York's Capital Region. Albany Realty Group represents buyers and sellers with the promise of first-class client service throughout the entire process.
Since the inception of our business in 2003, Albany Realty Group has experienced steady success throughout the years. Albany Realty Group specializes in assisting people find and sell Albany homes. We are dedicated to helping those with Albany homes for sale reach their target market, have minimal disruption in their everyday lives throughout the selling process, and sell their homes for the highest price possible. Albany Realty Group is dedicated to providing buyers with professional assistance throughout the entire purchasing process. Our goal is to take all of your needs and wants into consideration and strive to only suggest potential homes within your price range and community choices. 
BUYING - Your family needs a home that will grow as you needs change. Let us help you find the perfect home to meet your needs, budget and location preferences. Your dream home is just a phone call away!  
SELLING - Selling your home is about showing your home to prospective buyers - Allow the team at Albany Realty Group to utilize their aggressive marketing plan combined with MAXIMUM EXPOSURE to sell your home faster, while keeping you informed every step of the way! 
COMMERCIAL REAL ESTATE - Albany Realty Group can help you find, sell or lease your current commercial property or help you purchase a new space as you grow or build your investment portfolio. Let our team help you find the ideal commercial property to meet your needs.
W
e are Proud Members of the following organizations:
Latest Albany Listings For Sale
Free Daily Email Updates
Automated home searches
Favorite properties
Email updates
And much more…
---
Search By MLS Number